Veneers Can Give You a Hollywood Smile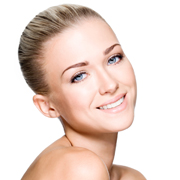 A gorgeous smile may be closer than you think. Many people are unhappy with their smiles. They cover their teeth with their hands when they talk or laugh, or they try to keep their lips tightly closed. While those practices may effectively hide their problem teeth, they can also make the person look shy, closed off or rude. We have a solution for just about every smile flaw: porcelain veneers.
Porcelain veneers are a type of cosmetic restoration that simply replaces the front of the teeth using strong, beautiful dental porcelain. A small amount of the natural enamel is buffed to allow the porcelain to fit more comfortably, and then the veneers are manufactured to your exact specifications. We use state-of-the-art technology to create your new smile using digital images and dental wax-ups that allow us to show you the changes we will make before we make them.
If you are a candidate for veneers, you can have your new smile in just a few visits. The veneers are thin, wafer-like shells of porcelain that fit right over your natural teeth. They can be placed on the front eight to 10 teeth to create a new smile, and once they are cemented into place, they can last 15 years or more. You can brush and floss them along with your other teeth, and because porcelain is stain resistant, you can still enjoy all your favorite foods and drinks without worrying about new stains. Call us today to learn more or to schedule an appointment with our cosmetic dentist in Beverly Hills.
Back to Blog