Keeping Your Teeth Clean while Wearing Braces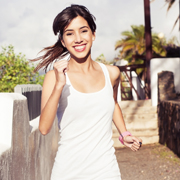 Braces can make it hard for you to keep your teeth clean. The brackets and wires offer bacteria and plaque many more hiding places and can be hard to reach without taking a little extra time. However, good dental hygiene during orthodontic treatment can help you get the most out of your newly straightened smile.
Use a soft-bristled brush that allows you to better reach all areas around your braces without irritating your gums or damaging your enamel. Replace it every three months or as soon as the bristles show signs of wear. Your toothpaste should contain fluoride and have a flavor and texture you enjoy. Hold the brush at a 45-degree angle and brush carefully and gently on each surface of the tooth. This can take between two and three minutes. Brush after every snack or meal and again before bedtime.
When you are done brushing, you will need to floss, but flossing around those wires can be tricky. Use a floss threader, which looks like a large, flexible plastic needle, to floss above and around the wires. You may also use an orthodontic flosser if preferred, but do not skip flossing even if it is time-consuming. Plaque and bacteria like to accumulate between teeth and at the gumline where you simply cannot reach with your toothbrush. Use a fluoride mouthwash to finish up.
Finally, you will need to have regular dental cleanings every three to six months just to keep tartar buildup at bay. This is in addition to your routine orthodontic appointments. Call us today to find out more or to schedule your appointment with our expert in dental cleaning in Beverly Hills.
Back to Blog