How Teeth Become Sensitive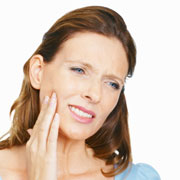 Your teeth are used for so many tasks, so when something happens to them, it is very noticeable. When your teeth become uncomfortable or overly sensitive to hot and cold temperatures, it can severely limit what you can and cannot eat. Sensitive teeth occur when the enamel becomes worn or the gums have receded, causing the tooth structure underneath to become exposed. Eating ice cream or drinking hot tea can become impossible with this condition, but it is a very common condition that our dentist in Beverly Hills sees all the time.
You can avoid sensitivity by avoiding toothpastes with abrasive ingredients. Sodium pyrophosphate is a common ingredient found in many whitening toothpastes, and it can increase your risk of tooth sensitivity. If your teeth are already overly sensitive, you should try using desensitizing toothpaste, or you can ask your dentist to provide you with a fluoride treatment or dental bonding to help protect your teeth. You should only use a soft-bristled toothbrush since a hard-bristled toothbrush could wear down your enamel.
You will know that it is time to see a dentist when your teeth have been excessively sensitive for three to four days. You will need to receive a proper diagnosis from your dentist so that the severity of your condition can be determined. You should get a diagnosis before you start any treatments on your own. This will help ensure that you get the best treatment possible and that you do not do more damage to the enamel.
Back to Blog